Palmetto Electricity Bill Integration allows customers to sync their electricity bill with their Palmetto solar account for better energy usage and savings insights. 
How does Electricity Bill Integration work with my Palmetto account?
With Electricity Bill Integration, you can sync your Palmetto account with your electric utility account to automatically import your electricity bill each month, or every other month, depending on your utility's delivery schedule. Once connected, new and historical data from your electricity bill will appear in your Palmetto account, allowing you to easily track your energy production, consumption, and savings. 
What are the benefits of Electricity Bill Integration?
Get detailed insights about your home energy ecosystem! By importing your electricity bill data, you'll be able to see exactly how much power you consume from the grid compared to how much energy your solar power system produces.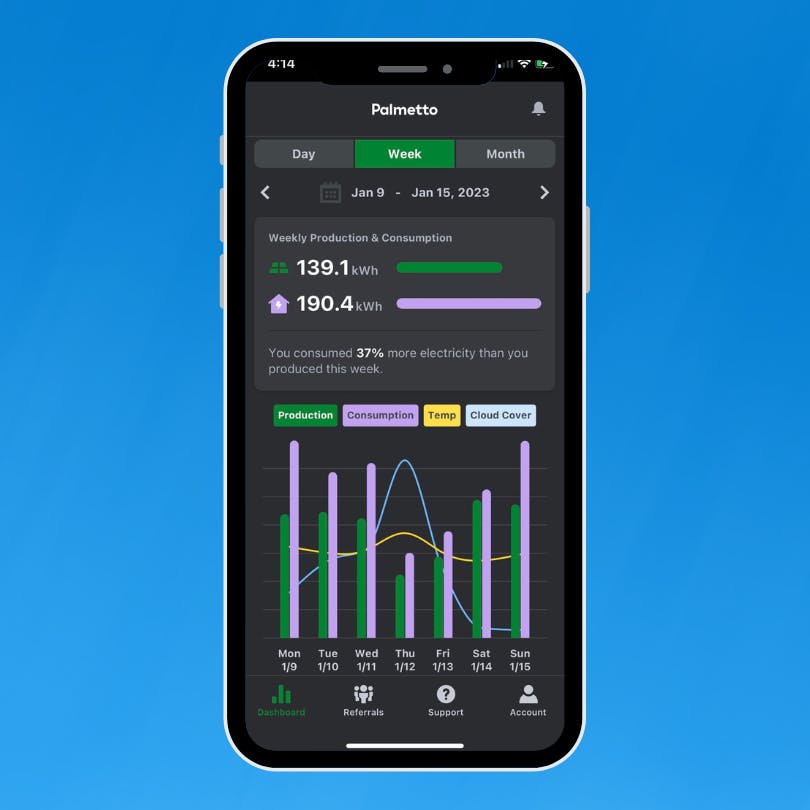 This makes it easy to track changes in monthly usage and savings, monitor system performance across time, and see how your solar energy system impacts your electricity costs based on the billing cycle of your electricity provider.
Do I need a consumption meter to activate this feature?
Nope, that's one of the benefits. Prior to electricity bill integration, customers required a specific type of inverter or an expensive consumption meter to track the amount of electricity consumed in their home. Now, we can calculate your energy offset and savings based on the amount of electricity your solar panels produce relative to the amount of electricity you purchase from the grid—no fees or equipment required.
Is Electricity Bill Integration available to all Palmetto solar customers?
As of January 2023, this Electricity Bill Integration is only available with select utility providers. However, we are working to expand the service to all customers, one utility at a time. To see if this service is supported by your utility provider, follow the steps below. You'll be prompted to register for updates if service is not yet available in your area.
How do I activate Electricity Bill Integration?
Log into your Palmetto Account. 
Select Account from the menu at the bottom of the screen. Then select Electricity Bills.
Select your electricity provider from the dropdown list of supported utilities.* 
Enter the Username and Password for your electric utility account.
Click "Confirm" to authorize Electricity Bill Integration and begin syncing the data.
It takes approximately 2 to 45 minutes for your electricity bill to sync with your Palmetto account. We'll send you an email when the sync is complete.
*If your utility is not yet supported, you'll be prompted to search for your utility provider by name and register for updates. We'll email you when this service is supported in your area.
What happens after I activate Electricity Bill Integration?
Once you sync your electric utility account, we'll automatically update the monthly system summary email that you receive from Palmetto so that it's delivered on the same day you receive your electricity bill, and includes your electricity bill data. This allows you to compare the amount of electricity you used each month with the amount of electricity your solar power system produced, to get a better understanding of how solar is helping you save.
Is my data secure?
Yes. Electricity Bill Integration follows strict U.S. Department of Energy standards regarding the access, usage, and storage of utility data. We've partnered with UtilityAPI to safely and securely access your utility information. All passwords and user information are encrypted to ensure your data remains protected from any unauthorized access. 
With this feature, your data will remain owned and stored by your utility provider. The integration allows you to access and read the data directly in your Palmetto account. It does not allow for any edits, updates, or changes.
How much does it cost to activate this feature?
Electricity Bill Integration is a free service provided to Palmetto solar customers and provides a way to track your home energy usage or consumption without the need for additional equipment and devices. There is no cost to activate or use this feature.
How accurate is the data provided by Electricity Bill Integration?
Performance data, or the amount of energy produced by your solar array, is highly accurate, real-time information provided by your inverter.
Consumption data, or the amount of energy used in your home, is calculated as the amount of electricity produced by your panels plus the amount of electricity consumed from the grid, less any excess energy sent to the grid in any given billing cycle.
Cost savings, or the impact of solar panels on your electricity bill, are calculated using a rate estimate, or the average rate per kWh of electricty billed by your electricity provider. This means that rate variations or time-of-use rates are averaged across the billing cycle. Interconnection or service fees are not included in the calculation.
Can I pay my electricity bill through my Palmetto solar account?
No, you should continue to pay your electricity provider directly for any electricity fees incurred. 
Electricity Bill Integration allows you to track data from your utility statement as a way to better understand your household energy usage and solar energy savings. It does not provide an alternative way to pay your electricity bill.