Imagine a Cleaner Future, Powered by Solar
Palmetto is leading the world into a clean energy future by making it easy for homeowners across the United States to switch from fossil fuels to solar energy. Our end-to-end approach takes the guesswork out of solar savings, guarding individual and natural resources from unnecessary waste. Leading the world towards a clean energy future is at the heart of everything we do. It's our north star that guides us to perform sustainably and ethically as we sell, design, finance, build and maintain residential solar systems across the country. It enables us to have a positive impact on the people, environments and communities we serve by providing economic development and job opportunities. Our employees and partners are committed to integrity in action, fairness in conduct and respect for all. We believe in the future of clean energy to help save our planet.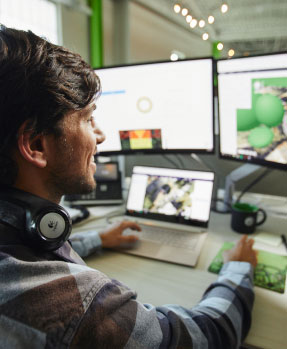 Imagine
Imagine: your power on your terms, no blackouts or "fluctuating rates", lifetime savings and support. Now imagine whole communities powered by solar, and the impact that could have on our natural environments. By switching to clean energy, imagine all you can save. We do. Every day.
Estimate your savings
Our Founding Story
Palmetto was founded in 2010 by Chris Kemper, who, after years working for some of the world's leading organizations on climate change, realized that stopping climate change would not be possible without changing our energy system quickly and on a massive scale. Kemper reimagined the business model for solar energy installs: stripping out costs and accelerating the buying process through tech-enabled tools and a decentralized marketplace of sellers and builders. Through Palmetto, Kemper has aligned stakeholders -- including policymakers, investors, business leaders and consumers --- in a shared mission of leading the world toward a clean energy future. Since 2010, Palmetto has grown to help over 5,000 people across 23 states (and counting!) make the switch to solar.
Learn more
11+ Years of Solar Energy Savings
Since 2010, we've helped thousands of homeowners throughout the world access clean, solar energy solutions. Now, we're expanding across the United States, so homeowners from north to south, east to west, can save time, money and resources with Palmetto's end-to-end solar energy solutions.
2010
Founded in London
Completed first clean energy project in India
2010

2011

2012

2013

2014

2015

2016

2017

2018

2019

2020

2021
Join us
We partner with the best in the industry to cultivate a future powered by clean energy. Energize your career and grow your business:
Track Your Savings with the Palmetto App
Track Your Savings with the Palmetto App
The Palmetto App puts solar savings in the palm of your hand. Track system performance and energy consumption by day, week, or month. Get real-time alerts, review historical data, and tap into Palmetto's clean energy incentive programs. With an intuitive user dashboard and one-click customer support, it's easy to track your goals and boost your results.
Real-time solar monitoring
Manage your system's performance in the palm of your hand. Activate professional monitoring and access exclusive service discounts to drive peak efficiency.
Learn more