Schedule Your Service
Keep your system running at peak efficiency with dedicated care from our licensed Palmetto Protect providers. We've partnered with the top solar inspection, service and maintenance specialists in your area to deliver superior workmanship and savings, guaranteed by Palmetto. Request service using the form below. Scroll down to learn more about the key services we provide.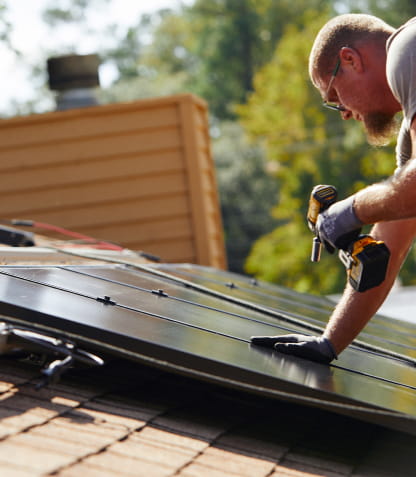 Maintenance & Repair
If issues arise with your solar panels, inverter or any other equipment in your solar power system, we will work quickly to diagnose the problem and schedule the repair. Many maintenance and repair issues can be diagnosed in a single day by a licensed Palmetto technician.
Removal & Reinstall
If you need to remove your panels for any reason—such as home repairs, additions, upgrades, installing a new roof, or moving to a new home—we can remove and safely store your system, manage all transportation needs and carefully reinstall to ensure there's no risk of damage at any point in the process. As needed, we can coordinate with your roofer throughout the process, and can replace any equipment during reinstall.
Panel Cleaning
Pollen, dust and grime can stick to your solar panels and reduce the efficiency of your system. To restore optimum performance, we recommend cleanings, during which we'll carefully scrub your solar panels with soap and water to remove any residue from wind, pests or storms.
Pest Abatement
If raccoons, squirrels, birds or any other animals have nested in or around your solar power system, it's important to address the issue as soon as possible. Our technicians will remove and repair any pest-related debris, restore panels and roof areas that were impacted, and add protective guards to prevent new pests from taking residence in your solar power system.
Check-Up Report
If you're buying or selling a home with solar, you should know the status of the system in place. Palmetto Protect will conduct a thorough assessment and provide you with a detailed report of findings, including history, production levels, recommended repairs and estimated costs for upgrades.
Track Your Savings with the Palmetto App
Track Your Savings with the Palmetto App
The Palmetto App puts solar savings in the palm of your hand. Track system performance and energy consumption by day, week or month. Get real-time alerts, review historical data, and tap into Palmetto's clean energy incentive programs. With an intuitive user dashboard and one-click customer support, it's easy to track your goals and boost your results.
Palmetto Protect
With active system monitoring, dedicated customer support and exclusive discounts on maintenance, products and services, Palmetto Protect offers the coverage you need for the confidence you want.
Learn more