Safeguard Your Solar Investment
Palmetto Protect offers the coverage you need for the confidence you want. With active energy monitoring, dedicated customer support, exclusive discounts, and best-in-class service, your system can run at peak efficiency while your mind can rest at ease. Not a Palmetto customer? Palmetto Protect is available to any homeowner with a solar power system, whether we installed it or not. If we're in your state, we're in your corner!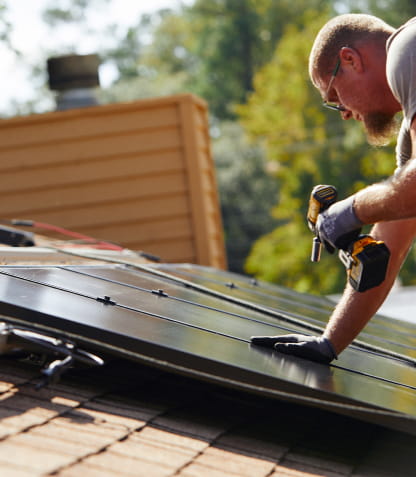 Active Energy Monitoring
Peak efficiency means peak savings. With active energy monitoring, we'll closely track the energy produced by your solar array to ensure you're always getting the most out of your investment.
Dedicated Customer Support
Earn direct access to dedicated customer support. We're always on call to address issues, schedule maintenance, and field your every question with a timely and thorough response.
Exclusive Discounts
Save more with exclusive discounts on maintenance, products and services. We've partnered with the best in the industry so you get premium results at lower costs.
Best-in-Class Service
We've partnered with the top solar inspection, service and maintenance specialists in your area so you can count on superior workmanship guaranteed by Palmetto.
Not a Palmetto customer?
Whether your solar energy system is new or old, was installed by Palmetto or not, the benefits of Palmetto Protect are available wherever Palmetto services are provided.* Take control of your savings.
Enroll today
*Palmetto Protect not available in every state. Click here to see where we serve.
Save on Products & Services
Services
Discount
Estimated Cost After Discount
Pest Abatement
$200 off
$640*

 est. cost after discount

Removal & Re-install
$500 off
$4,450*

 est. cost after discount

Panel Cleaning Service
$75 off
$245*

 est. cost after discount

Tesla Powerwall
$500 off
$12,495*

 est. cost after discount

Consumption Meter
$200 off
$900*

 est. cost after discount

Roofing Service
$500 off
$9,500*

 est. cost after discount
*Average cost for service type. Prices may vary based on location, condition, improvements, updates, lot sizes, and building type, among other factors.
Frequently Asked Questions
When can I start using my plan?

Immediately! Active monitoring and service benefits are available as soon as your system has been installed and connected. Additional product discounts begin the day your plan goes into effect.
How do I request service?

Palmetto Protect customers can submit maintenance requests using the Service Request Form linked above or through the Palmetto App. A customer service representative will reach out right away to review your request and schedule service as needed.
How can I find out the status of my service request?

Our dedicated customer service representatives will keep you informed with regular progress updates from the day you submit your service request through the completion of your service visit.
Can I choose my contractor?

To access Palmetto Protect pricing and guarantees, all contractors must be licensed and approved by Palmetto. We've partnered with the top solar inspection, service and maintenance specialists in your area so you can count on superior workmanship guaranteed by Palmetto.
Is there a limit on the number of repairs that are covered?

As long as the repairs are included in the terms of your Palmetto Protect agreement, there is no limit to the number of repairs covered. That said, we do our best to ensure that potential issues are identified and addressed before they become recurring problems.
Doesn't my warranty cover some of the same things?

Palmetto Protect goes above and beyond the typical manufacturer warranty in which coverage is largely limited to equipment manufacturing defects and the workmanship of the original installation. If you do require service on a piece of equipment that is covered by your manufacturer's warranty, Palmetto Protect provides comprehensive management of any warranty claims that may arise. Palmetto Protect also covers specific repairs performed. However, Palmetto is not a replacement for your original workmanship warranty. Any issues with the underlying system will be covered by the warranty of the original installer. If your system was installed by Palmetto, your equipment warranty will be associated with the original sale.
Are Palmetto Protect benefits included when you install solar with Palmetto?

Palmetto Protect is a separate add-on that includes active monitoring, discounts on products and services and more. It can be applied to any solar energy system. However, it is not automatically included when you install solar with Palmetto.
What advantages does Palmetto Protect offer over other solar service providers?

Palmetto Protect is your ally in solar energy savings, and offers easy access to maintenance and service, system monitoring, and exceptional customer service. In the 10+ years since Palmetto was founded, we're proud to have supported and worked with some of the top solar companies in the industry. You can feel confident that we'll be there for the full life of your solar energy system.
What is included in a solar panel cleaning?

Dust and debris can accumulate over time and compromise the performance of your solar panels. During cleanings, panels are carefully scrubbed with soap and water to remove any residue from wind, pests or storms.
How does pest abatement work?

Pest abatement refers to the removal and repair of any pest-related debris or damage, most often the result of squirrels or birds. Through this process, we will restore any panels and roof areas that were impacted, and add protective guards that prevent new pests from taking residence in or around your system.
Why would solar panels need to be removed and reinstalled?

The most common reasons are 1) home repairs, additions or upgrades, 2) a new roof is being installed or 3) the system is being moved to a new home.
Track Your Savings with the Palmetto App
Track Your Savings with the Palmetto App
The Palmetto App puts solar savings in the palm of your hand. Track system performance and energy consumption by day, week or month. Get real-time alerts, review historical data, and tap into Palmetto's clean energy incentive programs. With an intuitive user dashboard and one-click customer support, it's easy to track your goals and boost your results.
Why Palmetto?
Since 2009, we've helped thousands of homeowners across the US access clean solar energy with end-to-end solutions that promise results you can track and savings you can count on.
11 years in business
5000+ clients served
Across 15 states
1000s of trusted sales members and build partners
95% of clients recommend our services*
*NPS Score
B-Impact score: 94.2
The average Palmetto homeowner saves more than $18,000 over 25 years by going solar. Resources are precious. Why waste yours?
Clean Energy Learning Center
Palmetto Learning Center is your go-to resource for news, updates and questions. Because knowledge is power. Invest with confidence.
Comprehensive Solar Solutions
Maximize your savings and minimize your worry with Palmetto's comprehensive solar energy solutions.
Have a question?
Get in touch