Safeguard Your Solar Investment
Palmetto Protect offers the coverage you need for the confidence you want. With real-time energy monitoring, one-click customer support, and best-in-class service, your system can run at peak efficiency while your mind can rest at ease.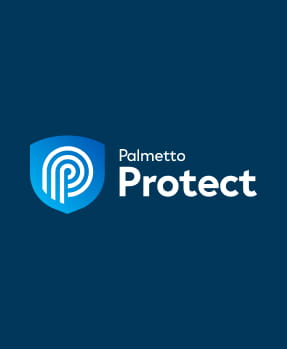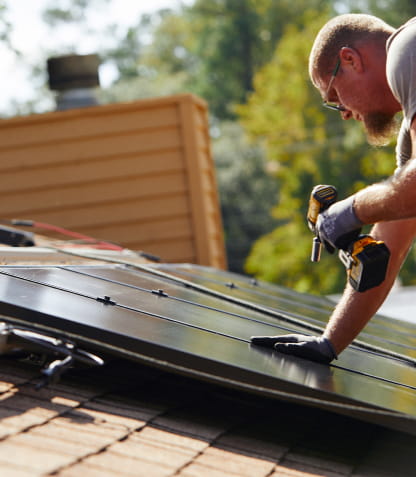 Real-Time Monitoring
Peak efficiency means peak savings. We'll closely track the energy produced by your solar array to identify any issues that could lead to reduced performance or downtime.
One-Click Customer Support
Gain direct access to dedicated customer support. We're always on call to address issues, schedule maintenance, and field your every question with a timely and thorough response.
Clear Performance Insights
Track system performance and clean energy savings by day, week, or month. Take your insights even further with an optional consumption meter and learn how to optimize energy usage and savings.
Best-in-Class Service
We've partnered with the top solar inspection, service, and maintenance specialists in your area so you can count on superior workmanship, every time.
Compare your plan options
Free
$
0
/ month
No expiration
Real-time insight and control over your system's performance
Benefits included in Free:
Real-time access and insight into system energy generation, consumption*, and your savings
On-demand visibility into the status and overall health of your solar system
One-click access to support and pre-vetted service network
*With supported consumption meter.
Essentials
$
8
/ month
1 Year Subscription or $12 monthly
Active professional monitoring so nothing falls through the cracks
Benefits of Free, and:
24/7 proactive monitoring by Palmetto team
Monthly system review and personalized recommendations to save energy and money
Prioritized support and troubleshooting
Best Value
Standard
$
25
/ month
1 Year Subscription starts at $300
On-site system check up to ensure full system performance and life
Benefits of Essentials, and:
Annual on-site visual inspection to ensure overall system health
Detailed system health report based on visual inspection
Exclusive discounts from top-rated local service providers for any new products or services
Premium
$
49
/ month
1 Year Subscription starts at $588
Proactive system upkeep to maximize your system's efficiency
Benefits of Standard, and
Annual panel cleaning to maximize energy generation, or one free service visit*
Guaranteed confirmed service appointments within 24 hours
Consultation on potential smart device, storage, and EV savings
* Up to 25 panels. Limited to services of comparable value.
Frequently Asked Questions
Can I buy more coverage?

The Free, Essentials, Standard, and Premium packages represent all of the Palmetto Protect offerings at this time. If you would like to request a service, please visit our services page

here

. If you have any other questions, please contact customer service.
When can I start using my plan?

Immediately! All of the Palmetto Protect plans activate immediately after enrollment or as soon as your system is activated.
How do I request service?

Palmetto Protect customers can submit maintenance requests from our

Service Request

page, by using the Request Service button located in the top menu under Products and Services, or through the Palmetto App. A customer service representative will reach out right away to review your request and schedule service as needed.
How can I find out the status of my service request?

Our dedicated customer service representatives will keep you informed with regular progress updates from the day you submit your service request through the completion of your service visit.
Can I choose my contractor when I request service work?

All contractors must be licensed and approved by Palmetto. We've partnered with the top solar inspection, service and maintenance specialists in your area so you can count on superior workmanship guaranteed by Palmetto.
How does this work with my warranty?

Palmetto Protect identifies potential issues with your system and enables you to easily take action to resolve those issues. If you require service on a piece of equipment that is covered by your manufacturer's warranty, Palmetto Protect provides management of any warranty claims that may arise. If your system was installed by Palmetto and has a workmanship guarantee, Palmetto Protect will also provide management of any claims that may arise.
Are Palmetto Protect benefits included when you install solar with Palmetto?

If you purchased your solar energy system from Palmetto after January 2021, it may have been included as part of your purchase. Please reference your purchase agreement for more information or contact customer service for help.
What advantages does Palmetto Protect offer over other solar service providers?

Palmetto Protect is your ally in solar energy savings, and offers easy access to maintenance and service, system monitoring, and exceptional customer service. In the 11+ years since Palmetto was founded, we're proud to have supported and worked with some of the top solar companies in the industry. You can feel confident that we're prepared to protect the long-term health of your solar energy system.
What is included in a solar panel cleaning?

Dust and debris can accumulate over time and compromise the performance of your solar panels. During cleanings, panels are carefully scrubbed to remove any residue from wind, pests, or storms. Learn more about panel cleaning

here

.
How does pest abatement work?

Pest abatement refers to the removal and repair of any pest-related debris or damage, most often the result of squirrels or birds. Through this process, we will restore any panels and roof areas that were impacted, and add protective guards that prevent new pests from taking residence in or around your system. Learn more about pest abatement

here

.
Why would solar panels need to be removed and reinstalled?

The most common reasons are

Home repairs, additions or upgrades
A new roof is being installed
The system is being moved to a new home.

Learn more about solar panel removal and reinstallation

here

.
Why can't I see consumption data?

Some of the early solar energy systems are not equipped with the hardware necessary to view consumption. We are actively looking for a solution that would make this viewing possible for those systems moving forward but, for now, consumption data is only available for customers using a CURB monitoring device or a monitoring-enabled SolarEdge inverter. If you need help installing a consumption monitor so you can gain access to consumption data, please visit our

Service Request

page.
How do I cancel my paid subscription?

You may cancel your paid subscription by logging into your account, going to your account settings, and selecting the Free plan. Upon downgrading to the Free plan, you will continue to receive the benefits of your paid Palmetto Protect plan until the end of the term for which you last paid. Once that term has expired, you will receive Palmetto Protect benefits associated with the Free plan.
What is included as a "free service" in the Premium Palmetto Protect Plan?

While we recommend annual panel cleanings to ensure optimal performance and efficiency, some of our Palmetto Protect Premium subscribers prefer to have their solar panels cleaned every other year. In these cases, for the years our customers don't have their panels cleaned, we give them access to one of the following services for free: an on-site troubleshooting consultation or a roof leak inspection.
Why Palmetto?
Since 2010, we've helped thousands of homeowners across the US access clean solar energy with end-to-end solutions that promise results you can track and savings you can count on.
11 years in business
Thousands of clients served
Across 25 states
Partnered with thousands of clean energy experts throughout the US
85% of clients recommend our services*
*NPS Score
A+ Rating with the Better Business Bureau
The average Palmetto homeowner saves thousands over 25 years by going solar. Resources are precious. Why waste yours?
Comprehensive Solar Energy Solutions
Maximize your savings and minimize your worry with Palmetto's comprehensive solar energy solutions.
Have a question?
Get in touch