At Palmetto, we believe that going solar is one of the best ways to counteract rising electricity rates and higher utility bills. In 2022, we're seeing drastic electricity rate increases, and as a result, the benefits of solar power are more obvious than ever before.
When rates increase, consumer demand for installing solar solutions and buying energy efficiency products generally increases as well. In addition, homeowners who already have solar panels on their homes benefit from increased solar savings, and a stronger return on their investment.
This article will help you understand why electric rates are increasing, what's happened historically with average electricity rates, and how you can expect electricity rates to change as we head into the summer of 2022.
Why Are 2022 Electricity Rates Increasing?
Several news outlets have recently written about how electric rates have experienced major price increases over the previous 3-6 months. These higher prices can be attributed to the rising demand for natural gas, and they are expected to continue through the summer:
Natural gas is the largest source of electricity in the U.S., supplying 37% of total generation. Coal generated 23% of U.S. electricity in 2021, but that number will steadily decline as those power plants are retired. Nuclear energy represents approximately 20% of electric generation, and it's expected to remain the same, while renewable energy including solar and hydro will continue to rise from their 20% level in 2021. 
The primary reason for the increase in electricity rates is that natural gas prices are increasing at a faster rate than in the past several years because the Russian supply to Europe and Asia is lower. Additionally, the demand for U.S. natural gas is higher both abroad and domestically, so prices are increasing as a result of this increase in demand.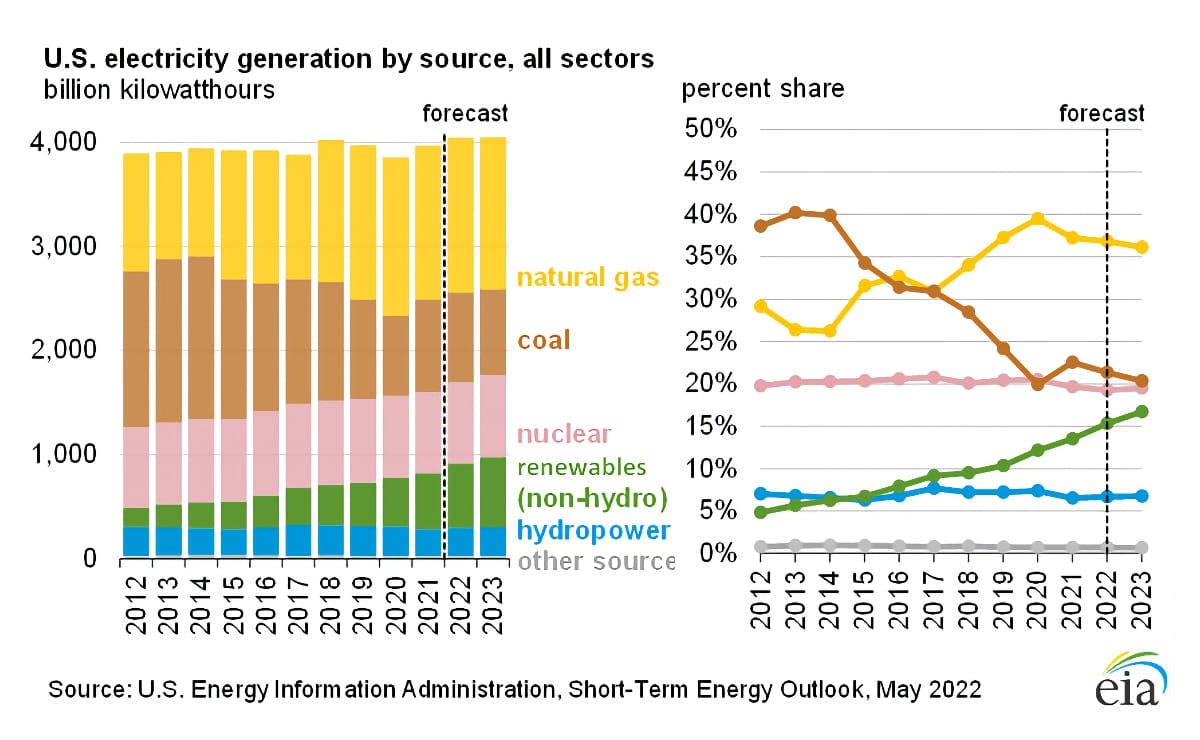 Let's examine the top three reasons for these across-the-board increases in energy costs and rates:
1. Russian Invasion of Ukraine Impacts Supply and Demand of Natural Gas
2. Increased U.S. Electricity Consumption Boosts Demand 
3. Coal Plant Retirement Creates Supply Constraints
Two-Year Projections for Electricity Prices
Residential electric rates increased sharply by 4.3% in 2021, and are continuing to increase in 2022. 
4.3% is the highest annual growth rate since 2008. 
The electric rate increase is also in line with 2021's inflation rate of 4.7%. 
The EIA estimates 4.3% growth in 2022, but a more modest 1.6% in 2023. 
Compare these projections with the U.S.'s average annual growth rate of electricity prices, which was 2.4% in the 20 years from 2001 to 2021. (For a total growth rate of 59.9%.)
Thus, we can expect electric rates to continue rising, but we should also remember that the conditions leading to this most recent spike are unique. They are being driven and/or compounded by a fierce drop in supply from Russia to European and Asian markets.
That said, it would be prudent to be cautious of EIA's estimates that natural gas prices, and thus electric rates, will go back to normal in 2023. If Russia continues to hold out its supply of natural gas (or Europe doesn't want that natural gas due to sanctions), these high prices could easily continue in 2023 and beyond.

Summer 2022 Projections for Electricity Prices 
For January and February 2022, the EIA reported an average retail price of electricity of 13.78 cents per kWh. While this is about the same as 2021's average, January and February of this year are up 8% and 3.7%, respectively, compared to the same months last year. From July 2021 to February 2022, electricity prices were 5.5% higher compared to the same months in the prior time frame. 
Even with those trends in hand, the EIA only projects a 3.9% increase in average residential electric rates for Summer 2022, compared to Summer 2021. The agency does note that it could be higher if summer temperatures are hotter than forecasted, as demand will be higher than estimated.
However, while the average rate increase may be nominal, regional differences are significant: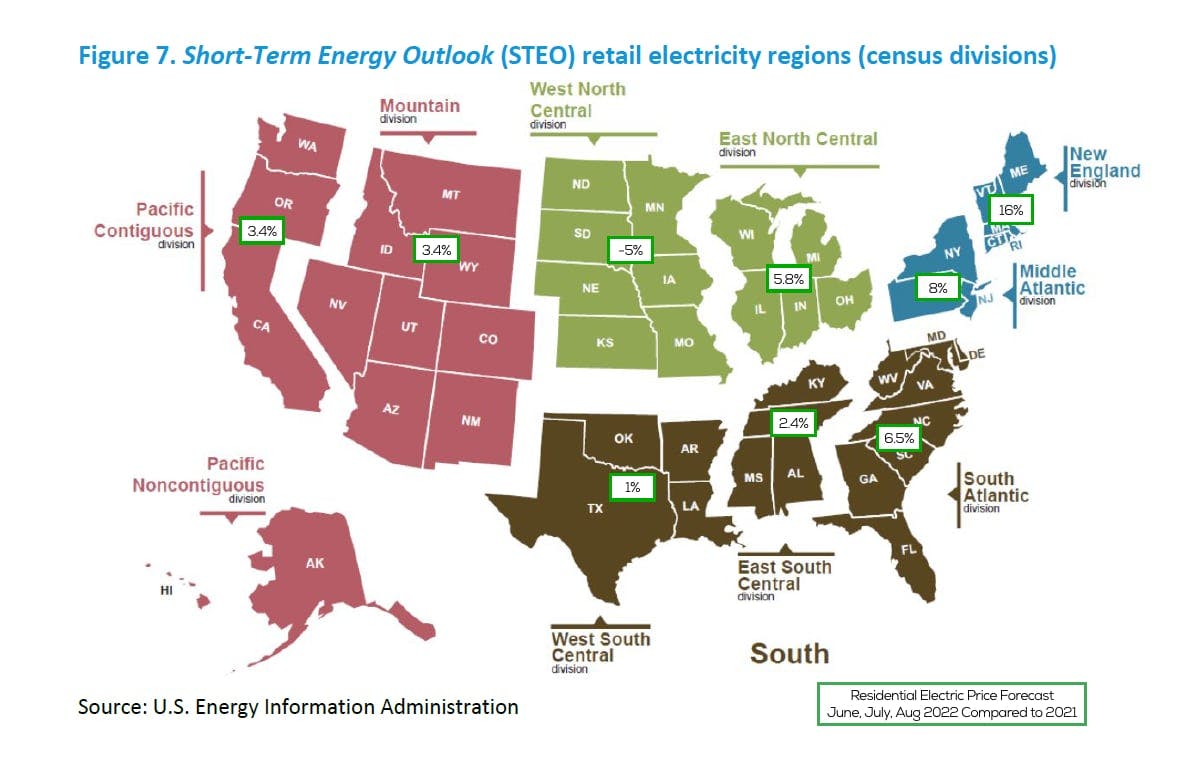 Be Cautious of Headlines About Electricity Rate Increases
Rate plan structures and historical data reinforce the fact that electric rates in the winter are typically lower than in the summer months. The graph below reflects those winter dips, even as the average annual prices typically rise year-over-year: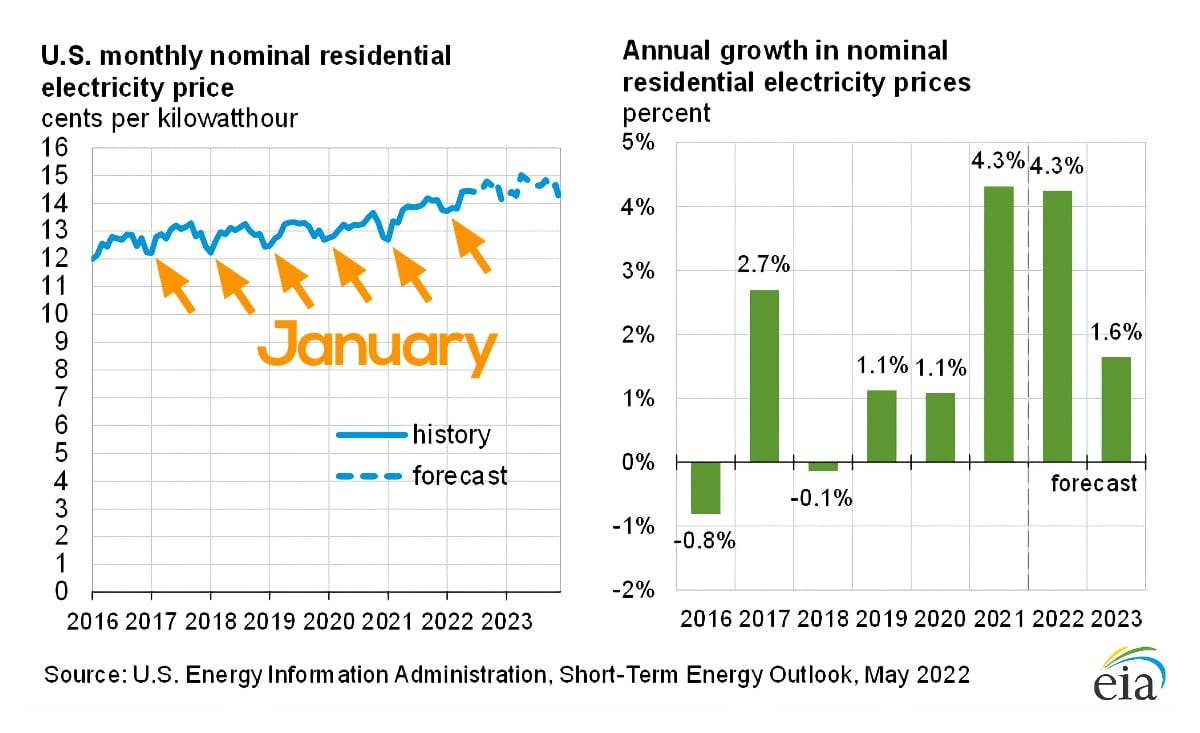 News articles about electricity and energy prices can be full of half-truths. Be leery of headlines that use language such as "Electricity Prices Are Increasing 45%". They are likely comparing winter rates to summer rates, not summer rates to the previous summer rates.
Also, they may only be comparing the wholesale generation portion of the bill, also called supply, fuel, or energy charges. Those numbers can exclude the distribution and fixed charges that typically require formal approval via regulators every 2 to 4 years.
Here are the numbers you should know:
Note: When calculating your expected electricity rate increase, Palmetto uses customized percentages that are based on historical averages per utility, which gives you a more accurate comparison of future costs.
Avoid Electricity Rate Increases By Going Solar
By locking in a fixed rate for your electricity, going solar is one of the best ways to counteract unexpected increases in electricity rates and larger energy bills. When you purchase a solar power system, you lock in a fixed rate for those solar panels, and every watt of electricity that they produce helps reduce your reliance on the grid for electricity.
If you're interested in comparing the cost of going solar with your expected increase in electricity rates, get a personalized solar proposal with our free Solar Design and Savings Estimate Tool. You can see what it would cost to go solar, examine the recommended system sizes, and compare the cost of solar with the predicted cost of electricity in your area over time.