Solar loans offer a great solution to those who want to go solar with little to no money down. That said, most solar lenders have what's called loan reamortization—or loan recasting—around 19 months after your first payment.
Lenders use loan reamortization to allow you to claim your solar tax credit (since it does not automatically apply) and use that lump sum to pay down the principal balance of your loan. In turn, your monthly payment will either decrease, increase, or remain the same based on the amount you applied toward your principal balance. 
Of course, every loan is different, and while most people can qualify for the solar tax credit, not everyone is eligible. It's important you read all documents carefully to understand your specific terms, payment amount, and loan structure. Speak with your tax, accounting, or legal advisor and/or lender if you have any specific questions regarding your loan payment. Palmetto does not provide tax, legal, or accounting advice. 
Below is a general overview of how solar loan reamortization works and how the solar tax credit could help to pay down your principal balance.
How Solar Loan Reamortization Works
Solar loans are unique in that lenders provide a window of time—typically 18 months—for homeowners to file their taxes, claim any available tax credits they may be eligible for, and pay down their principal balance. Though, the specifics can vary by lender.
In most cases, your lender will reamortize your loan in month 19 and readjust your monthly payments based on your principal balance for the remainder of your loan. Note that some lenders may offer reamortization opportunities after month 19, but again, this depends on your lender and specific loan product.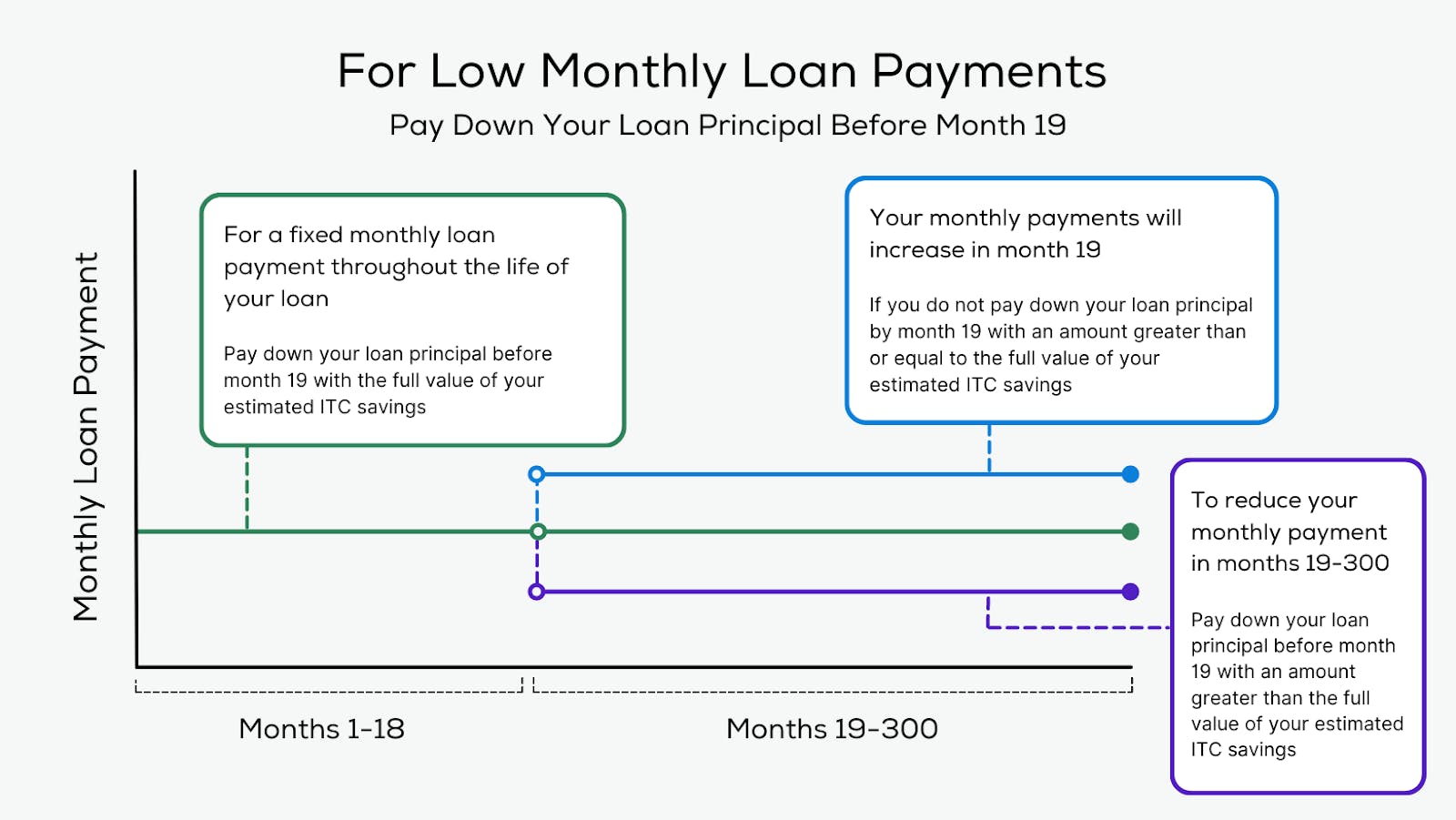 Months 1-18
Note: Your installation timeline and your loan payments are not related. Your payment schedule depends on your lender. Payments typically start within 60 to 90 days of signing your loan agreement. This means that your loan payments may begin before your solar panels are installed and active.
In most cases, lenders base monthly loan payments in months 1-18 on the assumption that you are eligible for the Residential Clean Energy Credit and will apply the full estimated value toward your loan sometime in the first 18 months. 
This also means that in months 1-18, you can apply any other tax credit, rebate, or incentive you were eligible for (or any additional cash you have on hand) towards your solar loan to further reduce your monthly loan payments after reamortization. 
That said, making such prepayments is optional, and savings estimates do not in any way indicate eligibility to receive such financial incentives. 
Months 19-300
By month 19, most solar loans will automatically reamortize—your monthly loan payment will be adjusted based on the remaining principal at that time and, in many cases, locked in for the remainder of your loan. 
If you pay more than the estimated 30% value of the Residential Clean Energy Credit, your monthly payments will be adjusted to a lower amount. In order to avoid an increase in your monthly payment, you must make one or more voluntary prepayments equal to or greater than your estimated savings from the Residential Clean Energy Credit within the first 18 months following your loan start date. 
Every Loan and Financial Situation is Different
It's important to remember that while most solar loans follow this structure, the specifics of your loan can vary. Please contact your lender to discuss any prepayment, downpayment, or re-amortization options.
If you have any questions regarding your loan payment, speak with your lender, tax advisor, accountant, and/or lawyer.