In most areas of the United States, solar panels will yield the highest production in the summer months, followed by fall and spring. This is what we refer to as seasonality. As the angle of the sun changes throughout the year relative to your roof and solar panels, it impacts the amount of energy your solar panels can produce.
Average daily sunlight hours by season
The position of the sun during each season of the Earth's orbit is a core aspect of solar seasonality, so it's important to know the average peak sun hours for each season. Here are the seasonal averages for the continental United States, courtesy of the National Renewable Energy Laboratory:
Winter: 4 to 4.5 hours
Spring: 4 to 5.75 hours
Summer: 6 to 8 hours
Fall: 4 to 7 hours
How does seasonality impact my production?
Roughly speaking, more sun yields more power. A rooftop solar system will likely produce more power in the sunnier months, when days are longer and the sun is higher in the sky.  It will likely produce less power in the winter months when the days are short and the sun is low. 
Like production, seasonality will vary by location. As a general rule, seasonal changes in production become more significant the farther you live from the equator, meaning homeowners in Florida will likely see less variation throughout the year than those living in Maine.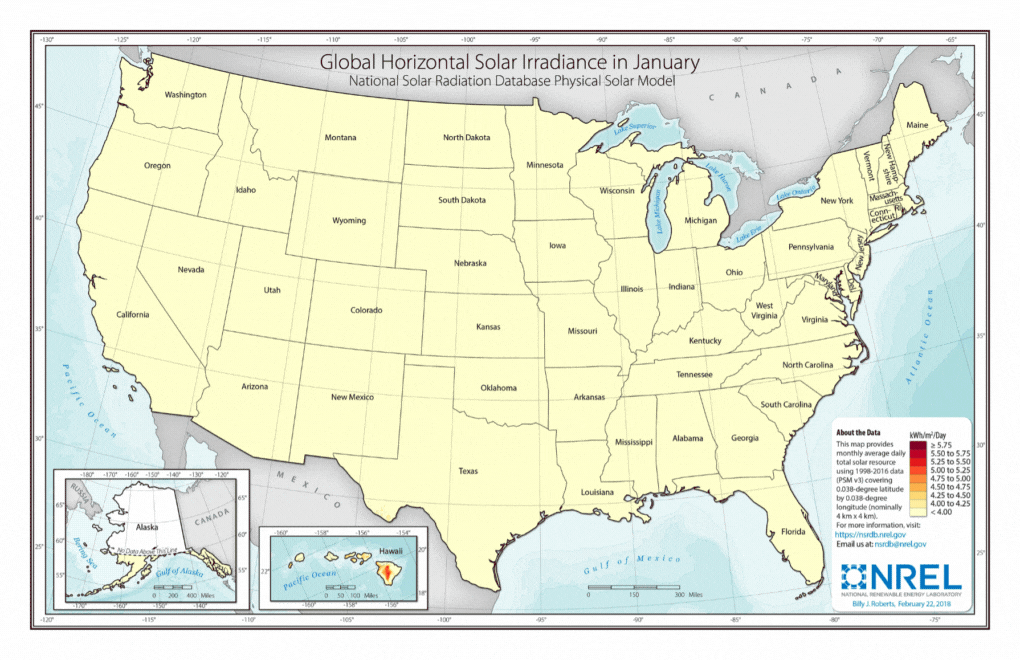 How does weather factor in?
Weather is closely tied to seasonality, and can impact your production and savings in a variety of ways. 
Despite common belief, solar panel performance actually increases in cooler weather, reaching optimal efficiency between 45°F and 75°F. However, cloudy, rainy, or snowy weather can decrease the amount of sunlight that hits yoru solar panels and reduce overall performance. 
Beyond panel performance, weather may influence your energy usage. Homeowners often increase their energy consumption in extreme hot or cold termperatures to maintain a comfortable indoor climate. If your energy bill increases in hot summer months even though your panel performance is high, the additional cost may be linked to an extended use of air conditioning.
Was seasonality accounted for in my design?
Yes! Every Palmetto customer receives a custom design that accounts for the specifics of your home—including location, roof, peak sun hours, seasonality, and everything in between—to ensure the production estimates we provide are reliable and accurate. 
When looking at your estimated solar offset, it's important to remember that the number provided is an annual average. Your actual solar offset will vary monthly based on energy usage, system production, and seasonality, among other factors.
What does this mean for my monthly utility bill?
Due to seasonal changes in production, many homeowners with solar energy systems have higher energy bills in the winter months than they do in the summer. When your solar panels produce less energy in a given period, you may require more energy from the grid to meet your household energy needs. 
Like your estimated solar offset, your estimated monthly savings are provided as an annual average. Your actual monthly savings will vary based on energy usage, system production, and seasonality, as well as utility rates and regulations in your area.
How does seasonality affect my estimated solar offset and monthly savings?
Both your estimated solar offset and your estimated monthly savings have already accounted for seasonality (amongst a host of other factors) and are provided as annual averages. 
In winter months, your solar offset and monthly savings may be lower than the estimates. In summer months, they may be higher. Over the course of a year, the variations should balance out to align with the production and savings estimates provided in your contract. 
Learn more about seasonality on our blog: How Solar Seasonality Can Impact Your Electricity Bill